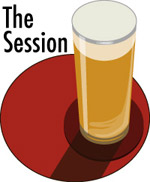 Bill Kostkas has posted the roundup for The Session #89: Beer in History.
His own contribution to The Session left me thinking about our recent travels in Poland.
Battlefield Brew Works just up the York Road outside of Gettysburg proper is one of my favorite brewpubs in the entire Commonwealth. The bar inside is crafted from trees that were grown on the farm's property when it actually used to be a farm. The establishment itself is completely inside an 1860's style Pennsylvania Dutch barn.

The Brew Works sits on what once was (or kind of still is) the Monfort Farm just outside of Gettysburg. At one point during and for some time after the Battle of Gettysburg the barn was used as a field hospital and is designated as such by a plate on a fireplace inside. I can honestly say that in my two plus years of doing things and recording some of them on this blog that this one was the most excited I have ever been to combine both beer and history. I can't wait to return next month.
We're kind of hit and miss in the United States about preserving the past (or conserving the present, but that's another discussion). But at least the continent hasn't had to host a world war. It is a delight to stroll through Warsaw's Old Town, which was established in the thirteenth century, and point to this or that cool bit of architecture. Except, of course, the one-time city center had to be rebuilt after World War II. Nazi troops leveled 85 percent of it during the Warsaw Uprising in 1944.
Considering history from time to time can help keep beer in perspective. Feel free to resume drinking.