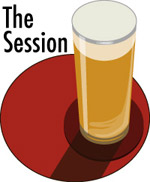 Adam at Pints and Pubs has posted the roundup for The Session #73: Beer Audit.
There turned out to be a lot more going on than simply auditing, as his wrapup illustrates. He divides the posts into:
– Auditing.
– Hoarding.
– Ageing.
– Drink it now!
He even comes to a conclusion.
It was fascinating and occasionally mouthwatering reading through the responses. I was glad to discover I wasn't alone in hoarding beer, counting my beer, and then failing to drink it. But I also want a less precious relationship with beer, that some have managed, where beer doesn't become too special to drink.
But does he manage to open the bottle that's already been in the cupboard too long?