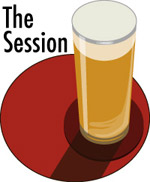 John at Homebrew Manual made Brewers and Drinkers the topic for the 71st gathering of The Session today, and suggested many directions a post might go. However, I kept coming back to this: "(It) is about your relationship with beer and how it's made."
(In his post, The Beer Nut writes, ". . . when The Session rolls round, I try and twist the theme to whatever I'm currently interested in or am already thinking of blogging about." Perhaps that is what I am doing here, pulling that line slightly out of context.)
My relationship with beer and how it is made might be more complicated than yours. I don't spend my working hours focused on that, but instead on other people's relationships and how they make beer, or grow ingredients, or analyze results, or run a bar, or whatever. By the end of the day, introspection that includes beer has little appeal.
I've learned a fair amount about various aspects of beer, from history to science, by reading. A lesser amount by doing; that is brewing at home. And far more by listening and observing. Sometimes all those experiences come together.
I'm pretty sure I've already told the story here about a late morning or early afternoon (I might have been hung over, so details get fuzzy) at Cantillon in Brussels. I was talking with Leonardo Di Vincenzo, founder of Birra Del Borgo in Italy, a brewer who has done collaborations with Cantillon, at the time.
The conversation stopped when Jean Van Roy poured something he had hauled out of the cellar.
Leo looked at my face when I took a sip. "Humbling," he said.
Making beer is humbling. But so is life.
If it turns out well, I did a good job of staying out of the way. If it doesn't turn out well, then I did something wrong. Humbling.