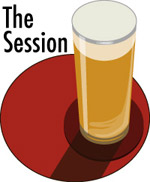 The topic of discussion today for The Session #70 is "Don't Believe The Hype." That's easy. I don't. Which is liberating. It allows me to appreciate beers that are highly hyped, in fact.
I might have more to say, but not the time to do it.
So instead, I'm doing the internet thing and pointing you to Simon Johnson's excellent post on the topic.
And, off topic, I'm thinking it would be great if the Reluctant Scooper got together with the HoseMaster of Wine for some sort of wine-beer collaboration.
Look for more, on topic, Session posts in the comments following the announcement post.