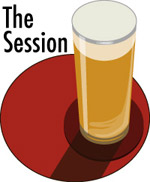 Rick Lyke has chosen the theme for the seventh round of The Session in September. In short, Welcome to the Brew Zoo.
Have you ever noticed how many animals show up on beer labels? We have lions and tigers and bears, plus various birds, reptiles, fish, assorted domesticated and wild animals, plus a few mythical creatures. For whatever reason brewers have a tradition of branding their beers using everything from pets to predators. The Brew Zoo will celebrate these lagers and ales.
What's the over/under on Moose Drool Brown?