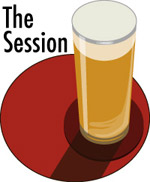 Carla Companion, the Beer Babe, has picked the topic for The Session #64 and it is Pale Ale. Find two of them, drink them, write about them. It's that simple.
The Session has taken many twists and turns since the first one in March of 2007, many of them delightful. But I never would have predicted 64 gatherings in that a) we'd still be doing this, b) we wouldn't yet have focused on pale ale.
Looking back at Jay Brooks' archive I see we've also somehow overlooked IPA. Oh, my.