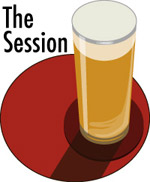 Kelly Ryan spoke with a surprising sense of purpose considering this April evening had just turned into tomorrow in a Chicago hotel room, and lord knows what day it was 8,000 miles away in Auckland, New Zealand, where Epic Thornbridge Stout was still conditioning.
"I think it needs more time in the tank," Ryan told Luke Nicholas after tasting the beer for the first time since they brewed it in February. He liked what was in his glass, but his experience with brown malt — a key ingredient in the recipe and one Nicholas had not used before — told him it wasn't time to bottle the beer. Nicholas reassured him that what he was tasting had been bottled weeks before so he could bring some to Chicago. The rest was still maturing.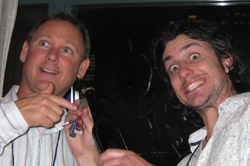 That's what's called collaboration.
The theme for the 39th gathering of the Session today is collaboration — Mario Rubio is this month's host and will have the recap — and I expect various bloggers to come at it from many directions. Let's just hope we don't hear the story of Avery/Russian River Collaboration Not Litigation Ale too many times.
I'll try to keep it simple. Nicholas is founder and chief bottle washer at Epic Brewing in New Zealand. Ryan, also a native of New Zealand, is brewery manager at the Thornbridge Brewery in England. They met last year when Nicholas was in England and ended up brewing a collaboration that melded, although that might not be the right word, Epic IPA and Thornbridge Halycon.
Since Ryan would be in New Zealand in February for his brother's wedding they decided to brew another beer, in this case a stout, a style Nicholas had never made. This was also his first experience with brown malt and two English hop varieties, Target and Bambling Cross.
"I woke up excited to go to the brewery," Ryan said. "(The process) energizes you. A mass of information goes back and forth."
The resulting beer is plenty stout, 6.8% abv with 54 bittering units, and even at a young age in early April full of textured flavors, smooth but complex. Half the batch has been packaged and hit the market last week. Half is aging in American oak barrels that previously held Epic Armageddon IPA and likely will be released at the end of August.
Both Nicholas and Ryan judged in the World Beer Cup in Chicago in April, and they spent plenty of time together during the following days at the Craft Brewers Conference. Information flowed freely, but not necessarily the way it would formulating a recipe or standing over a mash tun in the brewery. Nicholas calls what happens during brewing collaborations a cross pollination of ideas, and it breeds better brewing.
Collaborations are good business, good marketing, good fun and often result in interesting beer. They also make for good stories in print and cyberspace for those who haven't already heard them a thousand times. When they start to seem old remember the stories may be repetitive, the experiences are not.
******
The photo above was taken at CBC. Luke (on the left) is mugging for one camera, Kelly for another, and that object between them is an unlabeled bottle of Epic Thornbridge Stout they are about to open. Clearly a historic moment. You might find pictures documenting the brew day more informative. Details about the beer itself are here.