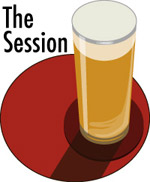 Were Mr. Sixpack (otherwise known as Don Russell) to participate today in our monthly session then he might quote liberally from his entry in 1001 Beers You Must Taste Before You Die
Three Floyds Dark Lord Russian Imperial Stout.
"The Dark Lord exists mainly by reputation. His power is rumored, his character praised with cultlike obsession, yet he is rarely seen. Until, that is, Dark Lord Day, a holiday ritual for the devoted who flock from around the world to Three Floyds Brewing in Munster, Indiana, for his annual appearance."
I don't have such a description or such a beer to offer for this session, for which you'll recall, Sean Inman provides these guidelines:

What beer have you tasted recently (say, the last six months or so) that is worthy of their own day in the media sun?

And to add a little extra to it, how does "great" expectations affect your beer drinking enjoyment?

AND If you have attended one of these release parties, stories and anecdotes of your experience will be welcomed too.
I'm not opposed to standing in line, literally as well a figuratively. On the first day of March I spent four straight hours calling a number in Colorado with hopes of getting through to book two nights in Jersey Jim, a former Forest Service lookout tower can you rent, and then I did the same the next day. Some years we get lucky and some years (like this) we don't. I can drive to Mancos (where reservations are taken) in four hours and probably would if they accepted in-person applications.
Anyway, back to The Session. I've had a beer or two in the last six months as worthy as Dark Lord, but I wouldn't exert as much effort to acquire any of them as I would for another night in Jersey Jim. Still one of these years I might try to make it to Dark Lord Day for the experience.
I promise to write about it.
(Head on over to Beer Search Party for more Session entries.)