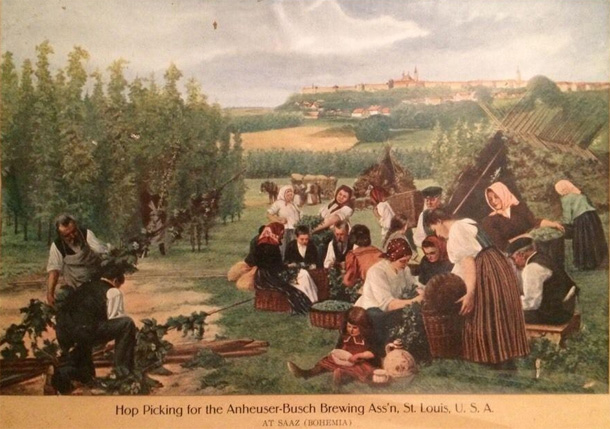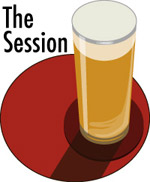 The topic for The Session #140 is Czech beer, but I'm going to write about Czech hops. The advertisement at the top may not be as old as it looks, but it suggests an unbroken link to the past.
A massive fire in the town of Žatek (Saaz in German) in 1768 destroyed historic documents that might provide more information about early cultivation, which apparently began in the first millennium. Few references to Bohemian hops exist before the fourteenth century, but from the time Charles IV actively promoted the product it flourished. In 1553 the Bohemian town of Plattau became the first outside of Spalt to receive its own hop seal, issued because dishonest merchants packaged inferior hops and sold them as "genuine Saaz."
The original Saazer variety had, and still has, a red bine. It was called "Saazer Red" or "Asucha Red" to distinguish from the "Green Hop" that also grew in the area. In 1869 brewers paid 50 gulden per zentner for "Asuscha Red," compared to 28 gulden per zentner for the "Green Hop." More than a half century later, when hop breeding pioneer Karel Osvald began making clonal selections to improve the agronomic qualities of Saaz, he made it clear the hop would have evolved.
"Current hop cultures are a mix of vegetative posterity of various genetic origins. Issue of varieties is absolutely unclear, and we can talk neither of Czech old-Saaz red-bine hops nor of Semš hops. Semš hops originate from old-Auscha hops, which comes from old-Saaz hops," he wrote. "Today the cultures of hops are thoroughly mixed, even though there are no great differences between neighboring plants in a hop yard. Hops are plants that can adapt to growing conditions, since the soil and the climate lend them a certain character."

So not quite an unbroken chain, but the quality of Bohemian hops was established long before brewers made pilsner beer in Plzen. And the Saaz variety still accounts for 87 percent of the hops Czech farmers grow. They harvested as many acres of Saaz in 2017 as American farmers picked of Citra, Mosaic and Amarillo combined. (Acreage of those America varieties increased in 2018, and will surpass Saaz when everything is added up.) Saaz, obviously, remains rather important to Czech hop growers, and the brewing industry. No surprise, research continues to assure Saaz quality. For instance, Czech scientists worked with Suntory Beer in Japan to measure the impact of root age.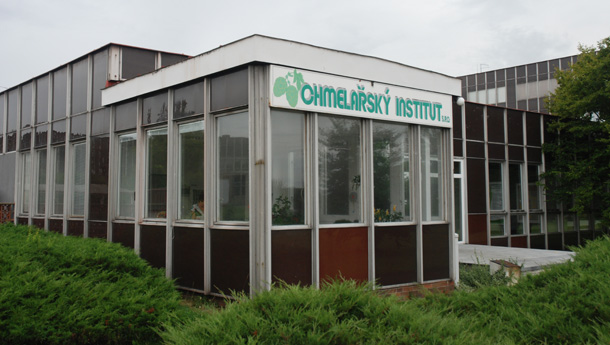 Yet there's more than Saaz going on at Czech Hop Research Institute. Brewers who regularly attend the Craft Brewers Conference are familiar with a hospitality session hosted by the German Hop Growers Association at the outset of each conference, showcasing beers brewed with German varieties. The Czech hop growers turned hops into bookends this year, hosting a similar event at the end of the conference, providing information about four recent releases and many others experimental varieties in advanced trials.
The new ones are called Boomerang, Gaia, Country and Jazz. Gaia was named after the Greek goddess of the Earth because its plants are high yielding and of massive size. She contains 12-15% alpha acids with an aroma that is described as hoppy and spicy. Boomerang (10-14% alpha acids) was given that name because when it is used in dry hopping "the aroma of the hop returns as a pleasant beer aroma." Her aroma is described as spicy, hoppy and citrusy.
The Czechs classify the other two, Country and Jazz, as aroma hops, part of a trio of "drawf hop varieties for music in low trellis." The third, N3 (Blues), is still officially experimental. Country is an offspring of British-bred Sovereign, 3-4.5% alpha/1.5-2.5% beta. Her "low intense" aroma is grassy, herbal, and spicy. Jazz (3.5-6% alpha/2-4% beta) has a more intense aroma, citrusy, woody, piney, and fruity.
In development are "flavour varieties from the aroma universe." Right now they are numbered hops, but have names waiting, such as 5193 (Venus) and 5520 (Saturn). Some have American H. neomexicanus in their background, like 5540 (Jupiter), which was selected from a seedling of Kazbek. The provided description of Jupiter certainly sounds New World: "High intense citrusy and fruity (apple, pear, sweets) aroma with floral (jasmine, rose), herbal (mint, lemon balm), spicy (star anise, bay leaf) and woody (resin, pine, needles) notes in background."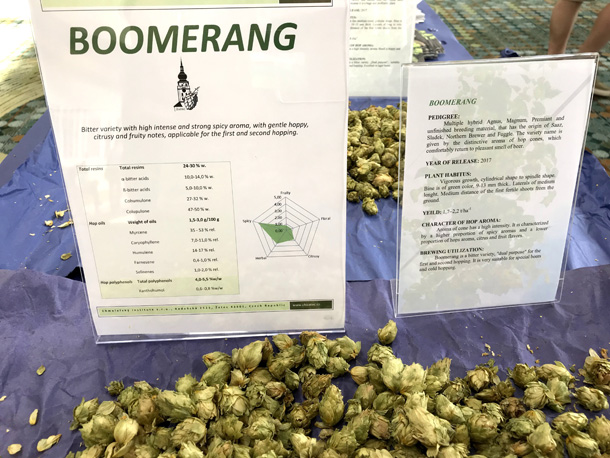 *****
Visit Fuggled for links to more Session posts. And if lots of chatter about hops interests you then consider subscribing to Hop Queries. It is free.