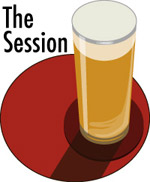 Host Oliver Gray has recapped The Session #111 in two parts (one and two), and in the process noted that rather than calling what he was experiencing a mid-life crisis perhaps it should be called a mid-hobby crisis.
And host Carla Jean Lauter has announced the topic for The Session #112 on June 3 will be "The Other Beer Economy."
Growing alongside of the boom of breweries are many small businesses that are supporting, or supported by the craft beer industry. Maine is now home to a malt processing facility, and several hop farms. There are multiple beer tourism-focused businesses that help connect visitors to the state's best beer offerings. There are companies that create beer-related apparel for beer fans, some that have designed unique bottle openers and manufacture them in-state. Maine is also home to a company that manufactures and installs brewing equipment, and another whose sole mission is to clean the lines that serve up that beer to thirsty beer fans.
I would suggest that Ben Keene, managing editor at Beer Advocate, might be mining Session #112 for ideas. BA has an occasional "Will Work for Beer" feature (disclosure: I've written a couple) that covers basically the same territory.