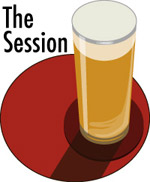 Ted Duchesne at Barley Vine has announced the theme for The Session #10: "Let it snow, let it snow, Winter Seasonal Beers."
The basics:
# Pick any Winter Seasonal beer you want. Or a sampler if you'd like (think the Sam Adam's one I picked up earlier this week).
# If you select a single beer, let us know why you choose this beer.
# Extra credit for pairing your winter seasonal beer with a winter meal, or better yet a recipe based on the beer of your choice.
# Post your contribution to The Session on Friday, December 7. Send the links to your post and a few short days later Ted will post a round up of everyone's contributions.
You don't have to take the "let it snow" part literally. Just the beer.