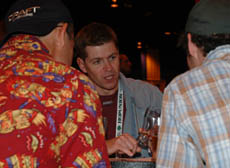 Sure the 200-plus beers that will win medals today at the Great American Beer Festival are "country class" (and maybe world class), but that doesn't guarantee you'll wax romantic after settling in with a pint or two of one of them.
No, nothing's wrong with the judging process – I agree with Michael Jackson's assertion that the GABF (and World Beer Cup) approach to evaluating beers is the finest anywhere.
However you need spend only a few minutes talking with judges or a make a few stops on the festival floor to be reminded that for some conversations we must separate drinking beer from tasting beer.
Drinking includes the pleasure of pints in the pub with buddies, while cooking at the grill, or over dinner with friends. You might occasionally take a sip and think, "Whew, that's something special," but that's not required.
Tasting is different. Tasting allows us to experience, and perhaps evaluate, many beers rather quickly. In the case of judging GABF, this year 107 judges had just five sessions to evaluate more than 2,800 beers. Beers entered in popular categories (IPA was the largest, with 120) had to pass through three rounds.
In the case of festival goers, it means tasting just one ounce at a time.
Brewmaster Matt Van Wyk of Flossmoor Station (Illinois) judged for the first time this year. "There were so many beers I thought, 'What a great beer in a two-ounce sample,'" he said. "It makes you think you (brewers) have to enter something that will stand out for two ounces."
That's not the way Van Wyk thinks when he is formulating a recipe. "You're not looking at guidelines you have to hit," he said. "You are thinking of what flavors you will like and what the customers who will be drinking your beer will like."
Van Wyk paused to pour a sample of Zwicklebier for Darron Welch of Pelican Pub & Brewery (Oregon). Welch took a sip and smiled. "This reminds me of Germany," he told Van Wyk.
The beer stands out at a single ounce (the festival serving size) at a time, but part of that is because it's easy to think: "This would be great in a half-liter mug."
Welch spent some time Thursday seeking out saisons (he has one entered, but mostly he's still tasting others and thinking about ways to make his better). "I didn't find a bad one," he said. "But at the judging table I'm going to be less about 'I really like this' and more about 'This isn't as balanced or . . ."
Welch's beers captured five medals last year, but he understands they might win none this year.
"It's fun, it's agonizing," he said. "And if you win it's good marketing. Your customers have an affirmation from the outside that the beer they though was great really is. I'll go back and somebody will say, 'I told you so.'"
Of course those customers aren't just tasting. They're drinking.
Further reading: New Beer Rule #3.
About the photo: The festival added a new diversion this year: "You Be The judge." Festival goers may sit down with a GABF judge and evaluate and discuss a beer ("blind" as the judges do, rather than the unveiled pints on the floor). Here Will Meyers from Cambridge Brewing (Massachusetts) shares his knowledge.