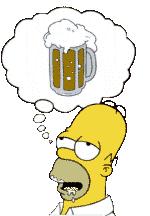 I looked up the word conundrum to make sure I was using it appropriately (a question or problem having only a conjectural answer). I already knew I couldn't look up "craft beer" – thus the conundrum.
We've debated the challenge of defining craft beer in this blog and maybe 80 percent of those listed to the right, as well as at Rate Beer, Beer Advocate, the Real Beer community and in at least 1,387 American brewpubs. Good bar talk – as witnessed by the scores of comments in the most recent discussion started by Lew Bryson.
A lot of good – and important – reading, but I don't see a succinct definition emerging. It's pretty obvious that debating the meaning of craft beer could occupy an entire semester of Beer Philosophy 101 and still there'd be no conclusion.
I can live with that. I spent a good portion of my working life as a copy editor and supervising copy editors. Writing and editing is a lot easier when you've got a dictionary to fall back on. And have I little choice but to use the term craft beer in some stories that I write. I just did a quick search in a story I filed last week for New Brewer, the publication that goes to Brewers Association members, and I see I used the phrase three times. In all three cases, even though the definition is imperfect, no other would have worked as well.
So perhaps whenever I type craft beer here I should include a link to the 50th comment, posted by Mr. Bryson himself.
The real subject is beer, or as Lew writes the beer in the glass.
Which takes us back to where the discussion started, a Anheuser-Busch Beach Bum Blonde Ale tasting note, and Lew's column earlier in the month about the benefits of tasting beer blind.
I have this blog with a name – that to many people doesn't exactly make sense – predicated on the idea that where your beer comes from (way before it gets in your glass) and how it is made changes what is in the glass and how you feel about it. So I think it's OK to give extra points (were we scoring the beer – which of course we don't do around here) to New Belgium Mothership Wit beer because it's organic or because of the brewery's commitment to sustainability or because you like bicycles.
But you are shorting yourself if you don't objectively evaluate what's in the glass. That means you don't give a brewer you like a pass when he or she conjures up a below average beer. It means that if you see a good reason to try a beer from a brewery you're not a fan of that you give yourself an honest chance to like the beer.
Craft is not a synonym for good or an antonym for evil empire.
I started to write a comment to meet Lew's request to describe the "characteristics (of craft beer) that you can see, taste, and smell in the glass" before I realized (d'oh) the description wasn't about craft beer, but just beer itself.