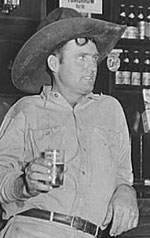 In the course of the conversation that sprung from my post about a review of Three Floyds Dreadnaught Imperial IPA I promised to post what I think are interesting style of "tasting note." Too long for a comment, so – cowboys and others at the bar – here goes.
Style 1: The experience
Ben McFarland, twice Beer Writer of the Year in the UK despite his tender years, and fellow Brit Tom Sandham recently spent 30 days in California working on a book for CAMRA about where to drink beer on the West Coast. Toward the end of a story McFarland wrote for the Celebrator he describes judging beers at the Bistro Double IPA festival in Hayward.
This was not intended as a tasting note, but I think would much the same if McFarland first wrote that he had tried Pliny the Elder, Lagunitas Hop Stoopid and Ballast Point Dorado and was describing them. Here you go:
Double IPA is a beast of a beer style, the hoppiest, most high-octane in the world. But it's quintessentially California and, well, we thought we could handle it.

We couldn't. In a dank, grim cellar in Hayward, our brains pleaded with us to put the glass down and step away from the potent potions. But it was too late. The devilish liquid had adopted a Vulcanlike grip on our souls, entwining our senses like poisonous ivy and with all the insidious charm of liquid crack.

Brimming with hops, hops and more hops, the IPAs flooded our nostrils with their resinous, herbal fumes; puckered and pickled our taste buds; rendered our mouths drier than an Egyptian's flip-flop; and left and aftertaste that stayed longer than the mother-in-law.
Entertaining as all get out, conveying a sense of what it is like to drink hop monsters, but not long on sensory evaluation.
Style 2: Sensory notes in story form
For Beer Talk in All About Beer magazine writers have space for 75-100 words He's what Michael Jackson wrote about Grand Teton Black Cauldron Imperial Stout:
The mountains can do things to a man's mind, and Wyoming can be a lonely place. A brewery with a mammary name, in a place called Jackson Hole, makes a beer called "Black Cauldron." Sounds like a witch's brew, but in a style closer to Catherine The Great. This Imperial stout has a good burnt barley aroma, and some espresso and cocoa. The body is more liqueur-ish (Bailey's?). The palate reminds me of Sambuca, and the finish suggests cherry liqueur chocolates. Rather sweet and innocent, after all that innuendo.
I taste on the same panel with Jackson (not too intimidating) and chose to focus on the fact the beer is relatively low in alcohol (7.5% abv) for style and the sensory consequences.
Style 3: Experience first, with tasting note
Warning, this is a wine review from Alder Yarrow, one of the best known wine bloggers. The tasting note at the bottom is not short (about as long as Jackson's above) but the experience/background portion clearly is the star. (Extra credit for the food pairing).
I think this is an excellent template, although I'd like it better if he didn't assign a score (but that's another topic).
Stephen Beaumont provides a Taste of the Month at his World of Beer site, also contributes to All About Beer's Beer Talk and you'll find his tasting notes a variety of other places. So his notes may seem chameleon-like.
I like the format his has chosen for participating in beer blogger's monthly session. In April he wrote about Brother Thelonious from North Coast Brewing in California. Instead a number at the end you get useful facts/opinion.
As long as I mentioned The Session, Lew Bryson contributed my favorite post of April. Not sure how to classify it, mostly just wanted to draw it to your attention.