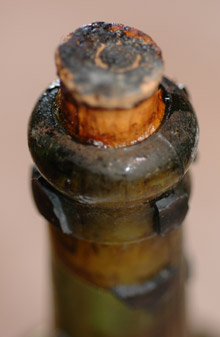 See that cork? There was a time, not long before the photo was taken, that the top of the cork and the surrounding glass were dead level.
Occasionally a beer like this will reach out, smack you upside the head, and make a gesture like this, essentially screaming, "I'm 40 years old, drink me."
More often, you'll screw it up. Stick a beer behind some others in the cellar. Let it sit long enough you hate to part with it. Eventually you'll have a collector's item. Valued at auction only for the bottle itself and label. (Yes, a wink and a nod in the direction of eBay.)
Years ago, a friend's sister died. She had a few cases of wine she's tucked away when he husband died several years ago. Our friends wondered which of these might be particularly good to drink now (understand that "now" was then). They asked me to look at them. I don't really know that much about wine, but I brought along a couple of vintage books — the ones that list which years are good for which regions. I didn't need the books. These were obviously old bottles of cheap wine, some red, some white, like it mattered.
Age does not make most wine better. It certainly does not make most beer better.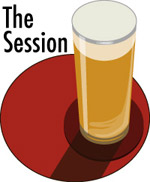 Hold that thought as we consider the topic of The Session #73: Beer Audit. Sort of consider, because to be honest, what follows does not come from the list of suggested topics.
Not that long ago beers like Thomas Hardy's Ale, the one so determined at the top of this post to pop the cork, were an anomaly. Beers weren't as strong, packaging technology wasn't as good. There were lots of reasons not to cellar beer.1
The beer world has also changed in other ways, ultimately because what drinkers want is different (or at least broader). Not only are there more strong beers, but more beers packed with all sorts of ingredients, more beers aged in barrels, more crazy beers, more beers you might as well lay down because they sure as shit aren't drinkable right now.
Check out the links that will pop up at Pints and Pubs today. I suspect there will be plenty of photos of drop-dead beer collections. And beyond the relatively few participating in The Session there are hundreds (thousands?) who have even more impressive libraries. And there's every chance that some of the bottles we're talking about will be better with five years or ten years on them than most Thomas Hardy's were at five and ten.
The first vintage of Hardy's was brewed in 1967 and released in 1968. Think of the movies finished in 1967 and up for the Oscars in 1968. Bonnie and Clyde, The Graduate, In The Heat of the Night, Guess Who's Coming to Dinner, Doctor Dolittle.
Aside from the last one — anybody up for laying down some cans of Pabst to watch along with Doctor Doolittle? — those are classics, if occasionally dated. They age better than beer. I saw them on the screen then (even DD) and I've seen them relatively recently (except for DD). I didn't drink a Hardy's in 1968, but I did taste the contents of that 1968 bottle in 2008.
So given that the topic today is beer audit I'm thinking about my relationship with beer, why I choose to drink what I do at particular times, why I choose to occasionally cellar a few beers, why I pick the ones I do, why I decide to haul one out.
That's all, just thinking about it.
*****
1 In case you feel the need to educate me about the history of cellaring, I know there have long been some beers to lay down, including lambics and others with considerable heft. If you want to read more about the latter, I suggest you buy a copy of Amber, Gold & Black: The History of Britain's Great Beers for a proper footnote.