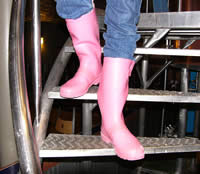 If you've been following Teri Fahrendorf's brewery trip across America (and if not, why not?) you know she's assembling a list of woman brewers.
Her focus is the United States, but the news that a woman has become the only head brewer in the north of England seems relevant.
Michelle Bright has been promoted to the position of head brewer at Wentworth Brewery in South Yorkshire at the age of 26. She is an ex-army chef who has served in Kosovo.
There is only one other female head brewer in the country – Sara Barton in Grantham. That doesn't mean it was always the same. Women brewed and consumed most of the ale consumed in medieval England, but after 1350 men slowly took over the trade by 1600. The book Ale, Beer and Brewsters in England
explains how brewing ceased to be women's work. (Good book.)
Back to America and the Road Brewer blog. Fahrendorf has asked for help building out her list. You can e-mail her (start here – I'm not going to post the address and add to her spam headache). And I'm going to go drop her a line about two New Mexico brewsters now.