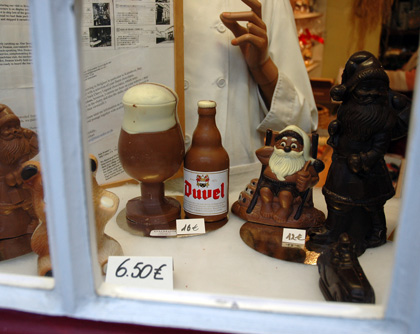 Having once accidentally driven a car into a large pedestrian-only square in Brugge I can assure you this is a city best enjoyed on foot. You can just stop and stare at the architecture. That the streets are narrow and winding becomes charming instead of exasperating. And there are the chocolate shops.
We are partial to Chocolatier Dumon. I cannot guarantee the chocolate there is any better, although I know it's pretty good. First of all, I'm a sucker for molded chocolate "art," even if everything we tried to bring back from our first trip didn't make it in one piece. Second, the variety is spectacular. It's a great place to just stand and inhale.
And that was the first thing I thought of when I worked the cork free of a bottle of Boulevard's Smokestack Chocolate Ale. Cocoa dusted truffles. Rich dark fruits. Caramel and rum. A rush of aromas that themselves must be fattening.
Plus, on a personal note, there's the Brugge (or Bruges) factor. In the movie "In Bruges" Colin Farrell's character (Ray) mutters, "Maybe that's what hell is, the entire rest of eternity spent in f*cking Bruges." He's nuts. You want to spend New Year's Eve here; you hope your niece marries somebody Flemish and the reception is here on a bright June day. No doubt that Chocolatier Dumon and the city of Brugge itself provide a halo effect for Chocolate Ale.
Last year seemingly every beer drinking soul in Kansas City went nutso over this beer brewed in collaboration with local chocolate hero chef Christopher Elbow. There were stories about people following delivery trucks and trying to bribe drivers into selling them a bottle directly. Some liquor stores were asking $25 a bottle (instead of the standard $9-$12) and we won't even mention eBay. The beer disappeared fast.
I can't tell you how fast it went here in St. Louis, because Sierra and I were still in New Mexico. However a month after the madness had subsided in Kansas City we visited St. Louis and drank it at Pi Pizzeria on Delmar. It was even brighter on tap.
Last year Boulevard produced 1,600 cases of Chocolate Ale, a standard run for a Smokestack seasonal. This year they brewed two-and-a-half times that, more than any of its limited releases ever. It's on the shelves. I'm not predicting how long it will last.
I'm pretty sure they won't have to advertise every bottle comes with a chocolate memory of Brugge. But they could.
Feb. 15: Boulevard Brewing announced it was offering refunds on a limited number of batches — up to a third of the bottles of chocolate ale sold — that the brewery said didn't meet its standards. You can watch the announcement here.