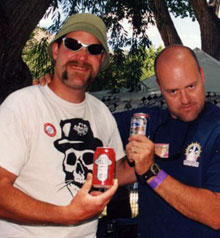 Last week's "Where in the Beer World?" seems to have been a real stumper. My apologies. The facts behind the picture would make a rather long comment, so instead I'll post the details here.
As a reader pointed out, that's Bill Graham (Ska Brewing co-founder) on the left. Brian Lutz, the brewer at Oskar Blues when the then-brewpub began packaging Dale's Pale Ale in cans, is on the right. The picture was taken in July of 2003 at the annual Colorado Brewers Rendezvous in Salida, Colorado.
Oskar Blues started canning on premise late in 2002 and Ska early in 2003. The brewers will release a collaboration beer in November. "It's been a long time coming, doing something with those guys," Ska co-founder Dave Thibodeau told Denver Westword. "We do a lot of outdoor activities with them, and we have been thinking we would brew something with them forever."
Lutz left Oskar Blues a few years later, but recently returned to brewing in Boulder. He's in charge of the kettles at West Flanders Brewing.
MORE READING
The Plot to Destroy America's Beer. That headline for the cover story in the Bloomberg Businessweek gives you a good sense of where it is coming from. Not exactly pro AB InBev.
Time To Start Thinking About The Xmas Photo Contest. Alan McLeod writes, "I have to get my brain around the categories this year so that is an announcement for later." While you wait, browsing at the Faces of Brewing should put you in the mood for more photos.
Craft beer is overtaking wine: SF mag. First notice I spotted about SanFrancisco magazine's large spread on beer was in Dr. Vino's wine blog, with the headline that sure gets some attention. Set aside a little time for all the stories (and, yes, the url is moderluxury.com), but start with with Dr. Vino to check out the comments about quality and price (both wine and beer).