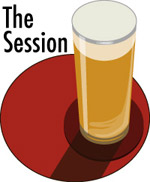 For The Session #59, host Mario Rubio provides these marching orders: "Let's talk about what we drink when not drinking beer." Alan doesn't approve, and — to be honest — I'm feeling challenged.
We do drink other stuff in our house. We had Tom & Jerry's when we decorated our tree, enjoyed homemade eggnog on Christmas, chatted at length over a wonderful bottle of Italian wine a few nights ago. But those aren't things I'm keen on writing about.
When The Session began nearly five years ago the premise was pretty basic. Pick a theme, write about it, maybe focus on a specific beer. Not sure how to do that with eggnog.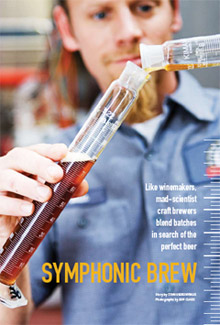 So let's talk beer, pretending this one qualifies because winemakers played a major role in creating it. Firestone Walker XV. Which — like for X, XI, XII, XIII and XIV — a bunch of otherwise grape-oriented guys help blend. I wrote about X for Imbibe magazine, and a some of the others here. Most notably XI, with more fawning here.
Now that I've stocked up on XV I'll fess up. It might be as good as XI. Of course, this is totally my palate talking. You might not agree at all. I'll let you know how the two compare in a couple of years, assuming I can actually stand open that last bottle of XI. Looking at the blend for XV — 76% barley wines, no dominant anchor, Double Jack (fueled by dry hop aromas that are bound to fade) — I wasn't all that optimistic. But there's already deep dark character beyond the rich fruitiness that's downright beguiling. And hints there'll be something different next year, then something altogether different the next.
Fifteen Paso Robles area winemakers showed up this year to contribute their opinions about the blend — or perhaps simply to drink beer — and Firestone Walker brewmaster Matt Brynildson set them off in groups of two and three. Each group came up with a favorite mixture, brewery workers replicated the blends and the winemakers voted to determine their favorite.
Brynildson now has 600 barrels to draw from, and emptied almost 200 for XV. I'm pretty sure that means there's going to be a XVI and that plenty of winemakers will show up to help.