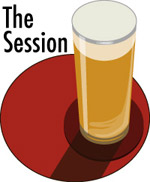 Chuck Lenatti at Allbrews has posted the topic for The Session #75: The Business of Brewing. He's looking for comments and observations from those who have first-hand knowledge about the complexities and pitfalls of starting a commercial brewery.
Like sandlot baseball players or schoolyard basketball junkies, many amateur brewers, including some beer-brewing bloggers, harbor a secret dream: They aspire to some day "go pro." They compare their beer with commercial brews poured in their local pubs and convince themselves that they've got the brewing chops it takes to play in the Bigs. Some of them even make it, fueling the dream that flutters in the hearts of many other home brewers yearning to see their beer bottles on the shelves at City Beer or their kegs poured from the taps at Toronado.

Creating a commercial brewery consists of much more than making great beer, of course. It requires meticulous planning, careful study and a whole different set of skills from brewing beer. And even then, the best plan can still be torpedoed by unexpected obstacles. Making beer is the easy part, building a successful business is hard.
Back in the late 1990s, Daria and I wrote the "Microbreweries You Never Heard Of' Column for Brew Your Own magazine. Some of the breweries we wrote about — such as Left Hand Brewing, Weyerbacher Brewing and, Saint Arnold Brewing — turned into major successes. Most, at least, are still in business, but there were a few less than brilliant choices. Remember Stone City Brewing in Iowa?
I think it is as important to observe what the survivors did right as the others didn't do right.
(To participate in The Session, write a post on the topic May 3 and drop Chuck a note.)