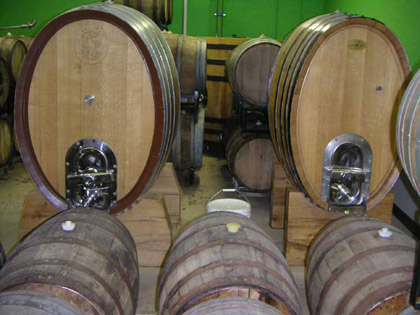 (Note: This post was amended Feb. 24 to eliminate babbling that got in the way of actual story.)
Tomorrow' s The New York Times carries an article about "tasting Belgian golden ales." Perhaps surprisingly American beers claimed four the first five spots although half of the 20 beers tasted hailed from Belgium.
The first and fourth favorite beers were from Dexter, Michigan — which as any card-carrying beer geek knows is home to Jolly Pumpkin Artisan Ales. Jolly Pumpkin's own Oro de Calabaza claimed the top spot and Leelanau Good Harbor Golden, brewed under contract by Jolly Pumpkin, the fourth. Eric Asimov writes:
"Both of these beers were unfiltered, giving them a hazy appearance, and aged in barrels, but beyond that they are completely different. While the Good Harbor was funky, the Oro de Calabaza was spicy, fruity and floral, with soft carbonation and fresh, vibrant flavors. Same man (brewmaster Ron Jeffries), different yeasts, at the least."
Yes, except of course, for the Dexter microflora, embraced by Jeffries.
"The primary fermentation does indeed use different yeasts," Jeffries wrote in an email. "The Oro is our 'house' strain, and for Good Harbor Golden I use either a cool fermenting clean ale strain, or ferments with a lager at slightly elevated temperatures. I can't decide which I like best, so I bounce back and forth between the two. Next batch I might blend them. Now that would be cool.
"The Good Harbor oak tun (1200 liters) does produce different flavors than the barrels we age the Oro in. Similar but different. If I had to pick, I would say it tastes most like the 2000L we use mainly for Bam."
The large barrel that Leelanau bought for use at Jolly Pumpkin is on the left side in the photo above. The rest are Jolly Pumpkin barrels.
I first tasted Good Harbor in the spring of 2007 for All About Beer magazine's Beer Talk. We liked the beer.
After I had written my notes I took the second bottle the brewery sent to share with friends I get together with semi-regularly.
When you see a bottle holding a brand you've never heard of, such as Leelanau, you might as well be tasting blind. But my friend, Bill, took one sniff and declared, "This is Bam." He knew it wasn't Bam Biere, the session Saison from Jolly Pumpkin but that was the impression.
Only problem, I said, this beer is 7.5% and Bam 4.5%. "OK, Double Bam," he said, suddenly looking inspired. "No, Bam Bam."
I don't think I ever expected to be reading about the beer I'll always remember as Bam Bam in The New York Times.