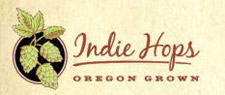 I'm a sucker for a story that begins . . .
Roger was drinking barley wine that night.
Roger is a lawyer. His partner, Jim, is a former Nike executive whose great-great grandparents farmed hops in Norway.
They are starting a company called Indie Hops to supply Oregon-grown aroma hops to craft brewers.
The Willamette Valley's rich alluvial soils, long summer days, family operated century farms, and pioneering spirit all combine to create the environment where world-class aroma hops thrive, in a culture that naturally supports craft brewing.

We have invested in the necessary infrastructure and partnered with leading farms to provide 100% Oregon-grown aroma varieties, some familiar and some unique, to craft brewers. Our intent is to earn the honor of being the preferred aroma hop resource for brewers across North America. Please join us in the pursuit of aroma varieties that inspire brew masters to create sensational beer for all to enjoy.
OK, we recently learned the world may be a little long hops right now, but these guys obviously have a long term plan.
And in Oregon, beer makes everything seem possible. The Portland Business Journal has a story about a soon-to-open brewpub, Coalition, one of "15 breweries or brewpubs — which sell beer made on the premises and food — that will have started operating in Portland between summer 2009 and early 2010." Fifteen new breweries in richest brewery region in the world.