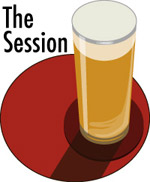 Glenn Humphries has posted the roundup for Session #76: Compulsion. Thirty takes on the same topic; excellent reading.
And Justin Mann has announced the plan for #77 on July 5. The topic is "IPA: What's the Big Deal?"
I'm just wondering, why all the hype? What is it about an IPA that makes craft beer enthusiasts (CBE) go wild?
He wonders about still more, but then it seems like just about everybody has something to say about IPA these days (currently recommending The Myth of the Authentic IPA at Boak & Bailey's Beer Blog). The Session #77, open to all bloggers, is July 5.