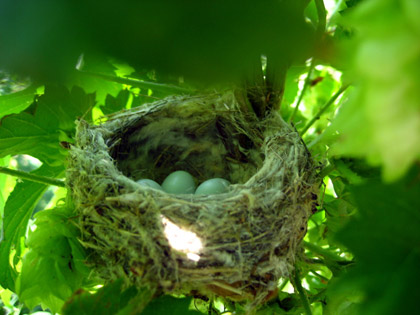 Sierra and I made a home school field trip yesterday to check out a small operation a few hours to the north, virtually on the banks of the Rio Grande, where a couple of guys are growing all manner of organic foods at 5,800 feet.
Included are many varieties of hops, most of them apparently native to New Mexico. That's a story I'll be digging into, but that's another day.
This was a fascinating lesson in biodiversity. For instance, all kinds of flycatchers and birds use the hopyard trellis (built with wood reclaimed from a mountain fire) as a hunting platform for insects.
Thus the picture at the top. Birds have built a nest in some of the thicker hop bines (in this case Cascades). It made me think of a recipe Goose Island brewmaster Greg Hall provided more than 10 years ago when we were compiling the Brewpub Cookbook for Time Life Books.
Hall suggests burying the eggs used in the recipe in a container of Cascade hops for three to dive days. Because eggs are porous, he said, they will breathe the piney aromas and it will perfume the eggs.
Let's hope the eggs in this picture hatch. Then maybe some day a resident of the Embudo area will have a bird fly close and think: "I'm not sure why, but I seem to crave a hoppy pale ale."