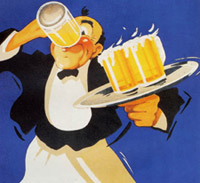 Last week I casually used the term "gastropub" pub in referring to a series of stories about beer and cheese in the Boston Globe and didn't give it further thought.
Today Stonch writes about the Time Out search for London's best gastropub, and this time I paused.
The word merits an entry in Webster's New Millennium Dictionary of English. It usually appears in a context that implies it is a good thing. Yet I still wonder if it is a great word for those who want to boost the image of beer and promote the idea that fine beer is a fine match for fine dining.
According to Wikepedia:
A gastropub is a British term for a public house ("pub") which specializes in high-quality food a step above the more basic "pub grub." The name is derived from gastronomy and was coined in 1991 when David Eyre and Mike Belben opened a pub called The Eagle in Clerkenwell, London. They placed an emphasis on the quality of food served, though The Eagle was not the first pub to offer good food. Gastropubs usually have an atmosphere which is relaxed and a focus on offering a particular cuisine prepared as well as it is in the best restaurants. Staying true to the format requires a menu that complements the assortment of beers and wines the gastropub offers.
I appreciate the link to gastronomy. I understand that gastric (as in distress) and gastro- are different. It even appears the British wine-types have bought into the term.
But say the word out loud.
To a 10-year-old. Who's enjoyed good food in more brewpubs than the average American. And watch her scrunch up her nose.