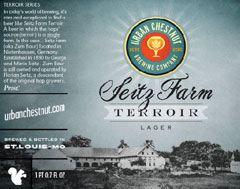 This is happening Saturday and I won't be there. Who is scheduling my life? Wait, by the time the first beer is poured Saturday at the Urban Chestnut Brewing Hopfenfest I will have already done Saturdays at the Kernel, seen Helen Mirren in The Audience and, the time difference being what it is, be settling in for a pint of something on cask.
As greedy as it might be I'll still pause a moment and wish somebody could put a glass of Seitz Farms Terroir Lager in front of me. Florian Seitz, who I have visited at the family farm in the heart of Bavaria's Halltertau hop growing region, will in St. Louis to watch drinkers try a beer made with his hops. He doesn't get to do that very often. "As a grower you are proud when you see what happens with your hops, when the product made from your own product is good," he said when I was at the farm.
I'd like to see the look on his face Saturday.
And while we're talking hops:
* More on how opinion has changed about what makes for good hop aroma (in some cases, of course) from Ed Wray.
Descriptions of new varieties used to be accompanied by notes on what percentage of them you could use before the flavour became unacceptable, and I once spoke to a retired Allied brewer who said he was only allowed to use a maximum of 25% Bramling Cross.
For further reading, see Rejected in 1960, Rejoiced in 2015? (Or buy the book.)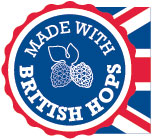 * The British Hop Association has a new logo for brewers to use on pump clips, bottle labels and marketing materials. From the press release: "Ali Capper of the British Hop Association said 'As a result of our recent work to promote British Hops, brewers were getting in contact wanting to promote the Britishness of their beer and I realised that we needed a new customer-facing logo. We've created something that will work at very small or larger sizes, that is clearly British and that promotes the provenance of British Hops.'"
The logo is available at the British Hop Association web site.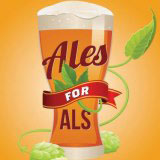 * More hops with numbers, and in this case to support ALS research. Almost three dozen breweries have already signed up for Ales for ALS. Loftus Ranches and Hopunion are giving away a blend of proprietary hops to participating brewers, who will donate a donate a portion of the sales of the beers they make with them to ALS TDI, the world's leader in ALS research.
The geeky details: Vinnie Cilurzo of Russian River Brewing and John Mallett of Bell's Brewery designed the blend of 35% HBC (which stands for Hop Breeding Company) 462, 25% HBC 369 (otherwise known as Mosaic), 30% HBC 344, and 10% HBC 366.
The ALS Therapy Development Institute (ALS TDI) aims to discover and develop effective treatments and a cure for ALS.