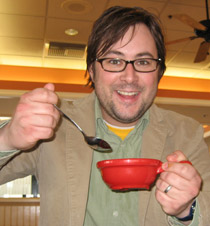 And we're off. For more about what this is part of look here.
Neal Stewart is director of marketing at Flying Dog Brewery. BeerDinners.com was/is his idea. His personal web site is the Turkey Sandwich Report.
In case you forgot, the questions are: If you could invite four people dead or alive to a beer dinner who would they be? What four beers would you serve?
Babe Ruth – I can't think of anyone who dominated a sport like Babe Ruth and I assume that he dominated the Dinner Table the same way. It seems like Babe appreciated a lot of the finer things in life and I'm pretty sure that included beer and food.
Mick Jagger – When it comes to the Beatles vs. The Stones, I have always been a Stones guy. And it stand to figure that a front man from one of the world's biggest bands for the last 40 years would have some good stories to tell.
Andre The Giant – I've heard a lot of stories about Andre The Giant but the one that I always remember is that he would order one of everything on the menu just to freak people out. I would invite him just to see how much he could put away.
John McEnroe – I grew up playing tennis and McEnroe was always one of my favorites. John would be good at interviewing my other guests and have some good stories himself. Plus, he strikes me as a beer guy.
1st Course
Toasted Ravioli with Marinara paired with Schlafly Hefeweizen
Schalfly was one of the first craft beers I was introduced to and I've always liked their beer and respected the way they have built their business in the shadows of A-B. I'm going with Toasted Ravioli because it is one of my favorite foods and it's hard to find anywhere except for St. Louis (where I am from).
2nd Course
Mixed Greens with Strawberries, Gorgonzola Cheese and Balsamic Vinaigrette paired with New Glarus Raspberry Tart
I was given a bottle of Raspberry Tart as a gift a few weeks ago and loved it. This beer would really accentuate all of the salad's flavors.
3rd Course
Beer Cheese Soup paired with Double Dog Pale Ale
I'm a sucker for Beer Cheese Soup and even though it is normally served with a Pale Ale, I would step up the hops on the beer selection to compliment the sharp cheddar flavors from the soup. And not to be a "homer" but I just really like Double Dog.
4th Course
Grilled Pork Chops with Pineapple Salsa paired with Avery Hog Heaven
Eric always makes fun of me because whenever we're out to dinner I order Pork Chops. This might be because eight years ago I was the official spokesperson for A1 Steak sauce on a mobile marketing tour. For 20 straight weeks I traveled around the country preaching the virtues of marinating steak in A1. Needless to say, I had unlimited access to steak and quite possibly could have burned out on the red meat. I love our Horn Dog, but I also really like Avery's version of this style and I think a sweet Barley Wine with the spicy/sweet Pineapple Salsa would be really good.
5th Course
Gonzo Imperial Porter Float
We feature this on BeerDinners.com and I've made this at home a few times. The thick and creamy Gonzo goes perfectly with Vanilla Ice Cream. If you can top it with chocolate covered cherry, it's even better.