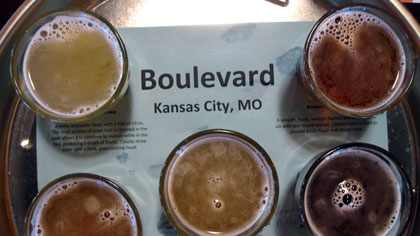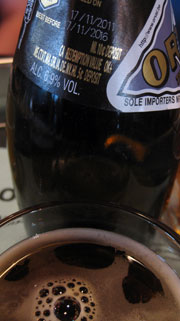 Saturday we drove across the state of Missouri to Kansas City so we could see a(nother) Bruce Springsteen concert.
Also Saturday, although Boulevard Brewing didn't make a big deal out of it, the brewery sort of wished itself a happy anniversary, birthday, whatever, with a tweet: Twenty-three years ago, our founder, John McDonald, tapped the first sold keg of Pale Ale. So it seemed appropriate that I start an afternoon of drinking and conversation at the Flying Saucer1 Draught Emporium with their Boulevard flight (Flying Saucer offers a variety of themed flights, each including five five-ounce pours). It was not my plan going in. I prefer full pours,2 and it's not like I don't already know these beers well. Boulevard has a significant presence in St. Louis and, after all, is brewed in Missouri. I choose to call it local although it is brewed 250 miles away. You are free to disagree. Anyway, very familiar beers. Hold that thought.
Springsteen went flat out for about three hours Saturday evening, rolling one song into another. He offered a mix of old, not so old, and new. What struck me, probably during "Death to My Hometown," is how quickly the new songs can find a spot deep in my bones. Music does that. Not just Springsteen. My experience was the same at recent Joe Ely and James McMurtry concerts.
I would give up beer before I would give up music; it really is an in the bones thing. But there is much to be said for beer (witness the number of words here). And for familiar. When I smell Smokestack Tank 7 (lower left in the top photo) I know where things are going to lead, and I'm happy to follow. Tank 7 is one of those beers tickers chase. They first time I tasted it was like the first time I heard McMurtry's "Choctaw Bingo." Wow, give me that again.
If we still lived in New Mexico it'd be one of the beers I'd recommend when I get the occasional request for input from those looking for wow beers to list in magazine articles and books. However, it's a local beer (for me), and it has become familiar. It's not just the nuances I've come to know. I remember the quick smile on my brother's face the first time he tasted it. I still try not to giggle when a server says there's 15 minutes left of happy hour and Tank 7 is one of the choices.
Your regular beers may not be local. Heck, you might not have regular beers. But if they are local, you likely also understand something about they place they come from. You live there. For me, Boulevard's beers are local not only because I can buy them easily here in St. Louis, but because we've spent a certain amount of time in Kansas City.
On Saturday that included an afternoon jawing primarily with Twitter star Jeremy Danner, who in real life is a brewer at Boulevard, and Cris Morgan, another Boulevard brewer, and his wife, Mary — but also several other innocent passersby Jeremy introduced me to.
Thus I should explain the second photo. The Morgans started with Orval. After they poured their beers, and perhaps establishing at the outset I can be short on couth, I asked to see one of the empty bottles, because, well, its Orval and you always wonder what kind of age it has on it. Both beers had been bottled on Nov. 17 last year. They were one year old to the day.
So what you've got it is a picture of two birthday beers (the Boulevard beer being Smokestack Nommo Dubbel).
*****
1 The hotel we stayed in was sold out, and it seemed as if every guest was going to the concert. One woman who checked in at the same time we did asked the clerk for directions to the Flying Monkey Draught Emporium.
2 See NEW BEER RULE #3: You must drink at least two servings of a beer before you pass judgment on it.
3 Certainly, there are many beers like that. Saturday I was struck by the Czech Pilsner at Gordon Biersch, conveniently next door to the Flying Saucer. This was the third Czech Pilsner I've had at a GB restaurant this year. The first two were excellent. This was better. A beer I'd love to become more familiar with.