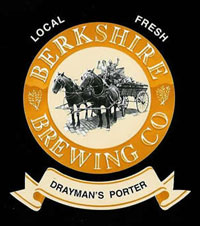 Here's an example of what I mean by beer from a good home: Berkshire Brewing in South Deerfield, Mass.
Ann Cortissoz profiles the brewery in today's Boston Globe (free registration).
Co-founders Gary Bogoff and Chris Lalli began selling beer in 1994 after friends helped them rehab on old cigar factory. They coaxed 6,000 barrels a year out of a seven-barrel system (that's what you find in a medium-size brewpub) and bottled by hand until they were selling 10,000 barrels annually.
The sell almost all their beer within 100 miles of the brewery, but this year will likely "grow out" of microbrewery status, surpassing 15,000 barrels. About 60% of sales are draft and 40% of the bottled sales are growlers filled by hand. Berkshire only sells 22-ounce "dinner size" and the 64-ounce growlers.
"When we were bottling by hand there never was a question (about six-packs). Then we when we did the comparisons we saw there was no way we could compete with breweries like Sam Adams. It really worked out well. We've got our own little niche."
They aren't going to get very big without packaging beer in six-packs and selling it all the places six-packs are available, but that's OK with them.
Berkshire self distributes – "99% of our beers is handled by our people," Bogoff said – from three separate warehouses. Berkshire began selling beer in Connecticut in 2005 and also works with a distributor in Vermont. "We're living by our own destiny. It's a little more involved but at the end of the day you can claim full responsibility for the beer," he said.
And, yes, it's good beer.
A drinking note for Drayman's Porter (6.2% abv), tasted last April for All About Beer magazine:
The label says "fresh" and "local" and the image of a horse-drawn beer delivery wagon accentuates the point. Deep brown to black – though mahogany highlights decorate the edges – with a billowing brown head, this might look like a beer to age. Don't think about it. The big chocolate, roasty nose hints of coffee and further suggests freshness, while perfect carbonation adds to the luxurious, sweet, chocolaty palate. More straightforward than complex, with just enough hops to accent roastiness again at the drying finish.