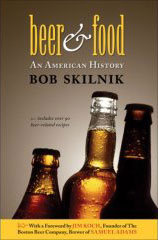 So would you call Beer & Food: An American History
a cookbook or a history book? This question particularly matters to me because we own a few beer related books and I can waste a fair amount of time trying to figure out on which shelf I put whatever one I am looking for.
And I ask it because the cover promises that the book "includes over 90 beer-related recipes." Many of these appear in the last chapter and come from modern day breweries. They put a punctuation mark on the statement craft breweries are trying to make that beer deserves a place as the table. They are also fun to compare to recipes, some from hundreds of years ago, that appear throughout the book.
That said, I'm sticking this on the shelf with other books related to beer history and the role of beer in American (and world) culture. Author Bob Skilnik – whose books include The Drink Beer, Get Thin Diet: A Low Carbohydrate Approach and Beer: A History of Brewing in Chicago – seeks to document when and how beer belonged in the home kitchen (and when and why it didn't).
Readers disappointed that Maureen Ogle did not include America's ale history in her book, Ambitious Brew, will be delighted to that those years receive considerable attention here. Skilnik, an alumnus of Chicago Siebel Institute of Technology, draws at times on the brewing school's archives. So we get a little different detail on how adjuncts became to be used in – and eventually define – American beer (another sore subject with some readers of Ambitious Brew).
His description of the manufacture of malt extract is equally educational. He points out the popularity of the products and cookbooks that supported extract. As an aside, it has always amused me to flip through one of those recipe collections, such as from Blue Ribbon Malt Extract, and see all these recipes that called for one or two teaspoons from a three-pound can. Little wonder consumers had to find something else to do with that extract.
Skilnik leans heavily on old cookbooks and "receipts" to track what he calls a "culinary evolution." There isn't much about how restaurant chefs would once have used beer – and perhaps they didn't – or discussions with modern day chefs about emerging trends in their kitchens.
Thus if you are looking for a book with more about the do's and don'ts of cooking with beer you might want to seek out Lucy Saunders' book with that title. If you want more on pairing beer with craft food, then Saunders' upcoming book
might better suit you.
But if you want to learn more about how American beer and food have evolved together then take a look at Beer & Food.