A few things to read this evening instead of watching "Dancing with the Stars" or "Two Dudes Catering" (even though cheese is involved) and perhaps while doing research for The Session #10:
– Andrew Jefford, multi-purpose UK drinks writer, asks a question.
One day, fortunes will be made with fine beer. Why not one day soon?
In case you overlook it, he makes a great point: "all wine is able to profit from the locomotive effect of fine or great wine: the existence of fabulous bottles enables more ordinary bottles to bask in a little of their allure. Whereas, for most beer drinkers, great beer doesn't exist."
– And what might be a fabulous bottle?
Many would say Lost Abbey's Angel Share (and I won't disagree). Look at the ruckus Saturday's release (and almost immediate posting on eBay) caused at Rate Beer. You'll find reviews at Rate Beer, or at Summer of Beer.
Lost Abbey's Tomme Arthur explains where all the bottles went and the behind-the-scenes volunteer effort involved.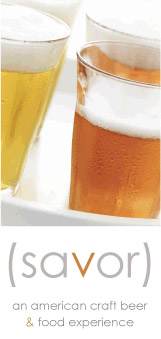 – The Brewers Association has more information about SAVOR: An American Craft Beer & Food Experience.
It would appear somebody has been reading Andrew Jefford.
The part beer drinkers care about: "Tickets for each of the three sessions (May 16-17) are limited to the first 700 ticket purchasers. The $85 ticket includes a commemorative tasting glass, souvenir program and Craft Beer Taster's Commemorative Journal, fabulous food and craft beer pairings, seminars, and 2- ounce samples of specially selected craft beer."
And what beer will be there? 48 breweries from eight regions will participate. The BA will randomly select five breweries from eight regions of the country, plus eight supporting brewery sponsors, to participate in the event. It's a lottery, with winners announced in December.
– Dr. Vino partners on a paper to calculate the carbon footprint of wine. I'm hoping somebody does this for beer (because I'm too lazy). Notice the "green line" that runs from Ohio into Texas, because east of there wine from France leaves a smaller footprint than bottles from California. Think the same is true of beer?