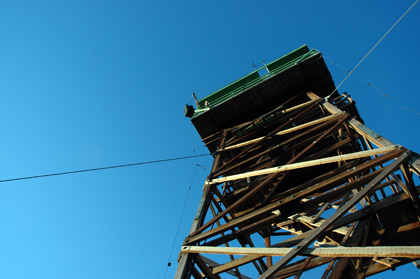 If you've been to Durango, Colorado, you've been in love at least once in your life.
We first visited Durango in 1993 because we wanted to sleep in a nearby fire lookout tower called Jersey Jim (above). Eating breakfast at a diner on Durango's Main Street we quickly realized we were in the midst of tourists (like us), locals who had been around forever, and people who had a bit more money and weren't scared by the skyrocketing real estate prices.
It was the first place we heard people say, "If you want to be a millionaire in —– (in this case Durango) you need to start with two million." On that morning the punch line was, "But it's not Telluride."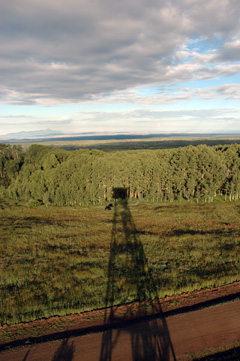 We drank our first beer from New Belgium Brewing on this visit. It wasn't Fat Tire. Call it chance, but a tiny store in Mancos (shuttered in each trip since) had Abbey Grand Cru in the cooler. It was a small run of a stronger version of New Belgium's Abbey Ale.
We were still flatlanders at the time, the tower is 9,836 feet and we had to make several trips up the stairs with our camping geer. By the time we got around to opening the beer it packed quite a punch.
We've come to know Durango and the San Juan Mountains much better since, and going there is always a treat. I can wear you out with photos taken during the season of your choice, including ones of the town's breweries (two packaging, two brewpubs).
Instead, one quick point. Those breweries make Durango a better place (and maybe Durango makes them better breweries). Not just because you can easily find fresh beer. They are all members of the Bootlegger's Society, initially formed to raise money in support of community causes. Their first event was a "Pint for Pint" blood drive (rewarding blood donors with a pint of beer) that's since been emulated by blood services organizations throughout the country.
The foundation was laid more than 15 years ago. Ska Brewing was still a somewhat crazy idea co-founders Dave Thibodeau and Bill Graham were considering when they were introduced to Bill Carver, who already ran a successful brewpub in town. When they told him what they were thinking about he looked his potential competitors over for just a moment.
"We'll put you guys on tap," he said.
"We've been a guest tap at Carver's for 15 years," Thibodeau said a while back, talking about his brewery's 15th year of business and the fact it was about to outgrow its "microbrewery" status, producing more than 15,000 barrels.
"That set a precedent for how we'd run our business."
So I had to smile when a press release arrived the other day declaring Ska Brewing Co. was named Durango's "Business Of The Year" by the Durango Chamber of Commerce.
"We usually like to poke fun at awards, but to be honest this has been an incredible year for Ska," Thibodeau said for the press release. "This award is because of what our employees do every day at work. We're truly grateful for the team we have and we're happy to have the Durango Chamber recognize their efforts."