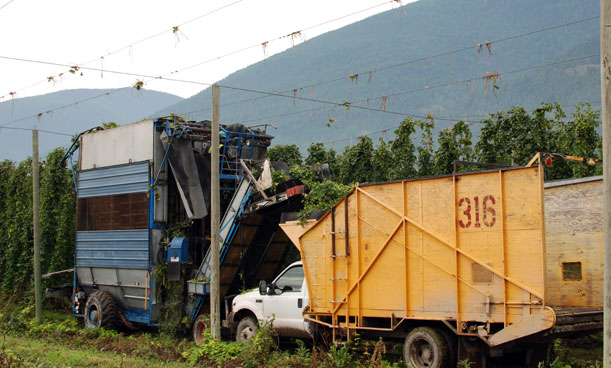 It poured rain Sunday in parts of Moxee, Washington. It was rainy and cold yesterday about 60 kilometers north of Munich. There's a chance of thunderstorms today in upstate New York.
Hop harvest has begun in the northern hemisphere and my Twitter feed is full of weather information important to hop farmers. Friday I hope to swing by Hoosier Hop Farms, taking a slightly circuitous route to Hop Head Farms in Michigan, and might even squeeze in one more hop stop along the way. Everybody has their own idea of a perfect Labor Day weekend.
I snapped the photo at the top at Elk Mountain Farm in northern Idaho. I'll be writing about that trip Friday, since Boak & Bailey have asked for "meatier reading material" (in this case, they'll have to settle for hoppier). Josh Noel has already filed a report for the Chicago Tribune (and taken better photos), and Michael Kiser posted a video at Good Beer Hunting.