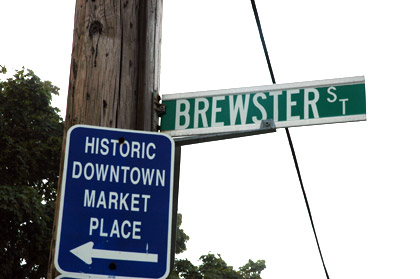 In Ale, Beer and Brewsters in England
Judith Bennett writes that women brewers were so common during the 16th century that in northern England the term brewster was preferred for anybody who made beer, male or female.
Over time, brewer won out as a term for both sexes and brewster survived only in limited cases, mostly used by historians and as a surname.
The photo above was taken recently in Plymouth, Mass., a town with just a little history. The street, quite near Plymouth Rock, may have been around for going on 400 years but likely takes its name from a family called "Brewster" rather than because there was a brewery located on it (too bad).