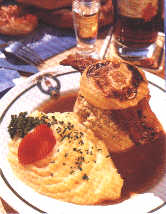 Fine Living Television features the beers and food of Germany this weekend. Germany: Prost! To German Beer! airs first at 10:30 p.m. EST on Friday, and repeats twice.
Schlenkerla Tavern, Heller Brewery and Rauchbier from Bamberg and Beck's will be highlighted, and the Fine Living website has a recipe for the Bamberg Onion.
Just a thought. There's time to track down some Schlenkerla Urbock (a beer that tastes bigger than its 6.5% abv), and make yourself a Bamberg Onion (be warned, the recipe is for four so you might invite a few friends over) – an onion stuffed with smoked pork and topped with a slab of smoked bacon – before the show starts.