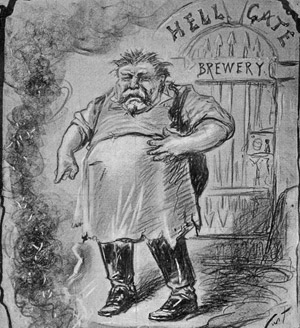 The rate at which exotic, artisanal, expensive beer sales are growing may have slowed, but it's not clear when brewery openings may. Bart Watson's string of tweets Monday made that clear, beginning with this: "The new TTB license data has all sorts of jaw dropping stats. Take NY – now has 420 licenses (#3 in absolute terms), more than US until '93."
Licenses do not always translate into operating breweries (of course). The final 2016 numbers are not in, but in 2015 there were 208 craft breweries in New York and they brewed 1,086,718 barrels. Folding in production at Genesse/North American breweries triples the total, but it still doesn't match production almost 140 years ago. In 1879 New York's 365 breweries produced 3,980,716 barrels. At the time the state had a population of not quite 2 million; now it has 20 million residents.
George Ehret's Hell Gate Brewery in New York City was the largest brewery in the country in 1879, selling 180,152 barrels. Missouri and Wisconsin would soon become brewing centers, but at the time New York ruled.
In fact, New York City breweries produced more beer than any other state, with 78 breweries making 1,894,668 barrels, and 45 Brooklyn breweries 544,896 more barrels. NYC had 13 breweries that sold more than 50,000 barrels and an additional 21 that brewed at least 20,000.