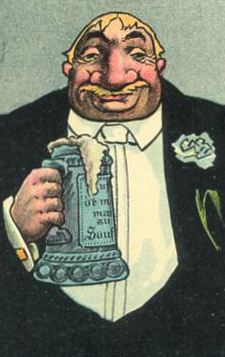 One more thought roused by Mark Dredge's "New Wave" post. If you lined up a bunch of beers, some of which you might never have tasted, and drank them "blind" could you pick out the brewery they were from?
I ask this because Dredge wrote, "each with their own authoritative stamp which makes the drinker know that they've just enjoyed a beer by that particular brewery."
I'm not simply talking about if you recognize a particular beer, so it's a little tricky. You have to be pretty familiar with a brewery's work to play this game so naturally you'll know some beers. Let's say Racer 5 and Hop Rod Rye from Bear Republic. But when you try two other beers from the brewery do you think you'd say, "Ah, Bear Republic?"
Another example would be Lagunitas Brewing, known for its "C" beers (crystal malts and hops that begin with the letter "c"). Or Jolly Pumpkin Artisan Ales, America's leading example of why somebody should invent a good name for what might otherwise be called beer terroir.
This is different than the notion of a signature beer. For instance, you can easily pick out New Glarus Wisconsin Belgian Red in a crowd. I'd call that a signature beer. It helped make New Glarus Brewing famous, but Spotted Cow accounts for half of sales and the new and wonderful Crack'd Wheat tastes totally different from those two.
So does New Glarus have an authoritative stamp? Bear Republic, Lost Abbey, Russian River, Rogue*, Goose Island, [fill in the name of the brewery of your choice]? Or what about the star of Dredge's post, Dogfish Head?
* Added just for Jeff Alworth. Oh, and here's one more, Pelican Pub & Brewery.