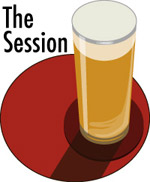 99 Pours has (already) posted a complete roundup for The Session #68: Novelty Beers, one of the best organized and most educational recaps in the history of this silliness. Or perhaps I was simply dazzled by the pictures and mouseover action.
And the question was repeated, "What the heck is Mumme?"
So once again I refer you to Ron Pattinson. Here's a post that includes a good explanation, but this one is guaranteed to make you chuckle.