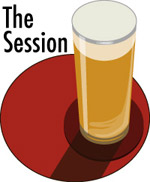 Brett Domue of Our Tasty Travels has announced the topic for The Session #97: Up-and-Coming Beer Locations.
Here's the plan: "I'm asking you all to share which locations you see as the beer destinations that everyone will be talking about in the next few years. Where are the beer scenes just emerging, or coming into their own? Some may be brand new locations. While others may be old-world destinations seeing a renaissance into the world of new craft beer styles. Some may even be locations where familiar names from around the world are planning on setting up shop to bring new styles to old palates."
I've got an old palate, so I'm looking forward to March 6 and reading the spots everybody suggests.