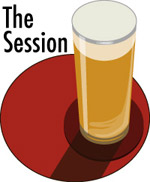 Boak & Bailey have stepped up to host The Session #88 (somehow we were lacking a volunteer), scheduled for June 6, personally noteworthy date for two reasons. First, it will be the 70th anniversary of D-Day, and we were backpacking in England for the 50th, enjoying seeing veterans in old uniforms visit seaside towns. Second, because Amazon says I might have Boak & Bailey's Brew Britannia: The Strange Rebirth of British Beer in hand by then.
The topic is traditional beer mixes.
How can you not find a question like "are there rules for the optimal Granny?" inspiring?