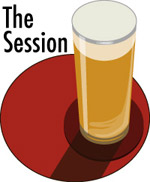 Host Oliver Gray has posted the roundup for The Session #84: "Alternative" Reviews (starting with Part I).
Meanwhile, Baltimore Bistros & Beer has announced the topic for #85 — that it is the eighty-fifth gathering means we are beginning the eighth year of this madness — will be Why Do You Drink?
It's easy to find article after article on the internet telling us that alcohol is bad. As beer bloggers it's safe to say we all disagree. Let's take the opportunity as a group to tell people why we do drink and how it improves our life for the better.
Be there March 7.