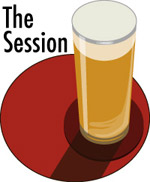 Today we gather for The Session #83 and the topic is "Against the Grain." Rebecca at "The Bake and Brew" has a few questions: "How much is our taste or opinion of a craft beer affected by what friends and the craft beer community at large thinks? What beer do you love that no one else seems to get? Or what beer do you say 'no thanks' to that everyone can't get enough of?"
Well, four years ago when Adrian Tierney-Jones was working on the first edition of 1001 Beers You Must Taste Before You Die one of my contributions was Boulevard Brewing's Smokestack Two Jokers. It hadn't even been released when I wrote the book entry. I'd tasted it from a tank and was smitten. What a fool.
Here is what I wrote at the time:
It makes sense that Boulevard Brewing, located in America's bread basket, would include wheat as a major ingredient in seventy percent of the beers it brews. Boulevard Unfiltered Wheat, a 4.4 percent beer perfect for humid nights in Boulevard's home of Kansas City, accounts for most of that, but the brewery makes a full spectrum of wheat-based beers, including Two Jokers Double Wit. "The beer and the name is based on duality," said Boulevard brewmaster Steven Pauwels. "On one side you have the old-school way of making a tart white beer while on the other side you have the U.S. craft beer movement to make everything bigger, more complex. This beer is an approach to overcome these differences."
He uses what brewers call a "sour mash" to create much of the tartness in this beer, a method employed in Belgium at the beginning of the twentieth century instead of using "wild" yeast. "I like the idea of tartness in white beers," said Pauwels, who is Belgian-born and trained. "Nowadays we tend to over spice these beer to reach that goal, while they were pretty simple beers at that time (in the nineteenth century)." The recipe for Two Jokers includes both malted and unmalted wheat and a bit of oats. It is spiced with coriander, orange peel, cardamom and grains of paradise, but none in quantities that make them easy to pick out.
Two Jokers is part of Boulevard's Smokestack Series, a collection boldy flavored beers sold in 750ml bottles. "I think that Midwestern beer aficionados are on par with Belgian beer drinkers. There is a lot of tradition in Belgium while there is a lot more experimentation going on here (the United States)," he said.
I wasn't the only one who liked the beer. After Boulevard quit making the beer (it was only a seasonal) #TeamTwoJokers popped up on Twitter. But that Boulevard quit making the beer indicates something. Like that I might have been a bit premature in suggesting commercial greatness for it.
However, there is a postscript. Boulevard is bringing it back this summer. There's a chance for you to drink it along with 1,000 other beers in the book and die in peace. Or at least to go against the grain. It is, after all, a wheat beer.