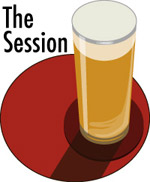 Host Derek Harrison at It's Not Just The Alcohol Talking has announced the topic for The Session #80: "Is Craft Beer a Bubble?"
It's a good time to be in the craft beer industry. The big brewers are watching their market share get chipped away by the purveyors of well-made lagers and ales. Craft breweries are popping up like weeds.

This growth begs the question: is craft beer a bubble? Many in the industry are starting to wonder when, and more importantly how, the growth is going to stop. Is craft beer going to reach equilibrium and stabilize, or is the bubble just going to keep growing until it bursts?
This discussion will most definitely overlap with the chatter that broke out following Joe Stange's "Will it fall? A look at America's brewery boom" article in DRAFT magazine. Given that The Session mostly attracts contributions from the UK and US it's not realistic to suddenly expect reports from Italy, Argentina, New Zealand, the Czech Republic, Scandinavia, and all the other places (apologies in advance) that small breweries and selling beer beyond the mainstream . . . but that would make good reading.
What is clear is that you don't want to take anything I write too seriously. Just a year ago Derrick Peterman asked us to predict how many US breweries would be in operation in 2017. I settled on 2,620. Given that by June of this year the number had already grown from 2,126 to 2,620 it appears I might have underestimated the total.
The October Session will convene on the Fourth. Join in and send Derek the information for his recap.