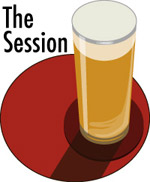 Captain Hops of Beer Haiku Daily has made the call for Session #8 and it's "Beer and Food."
No, you don't have to include a haiku.
And, yes, just yesterday I commented this beer and food thing was gaining traction.
I am looking for posts about pairing beer with food or using beer as an ingredient in food. I hope to see recipes, pictures, tasting notes, stories, menus, reviews or anything else that fits the bill of fare. Whether you write about which beer goes best with chili dogs or give your family's secret recipe for vegan stout stew or post pictures of those ale braised lamb shanks you had last week, I want to know every mouth watering detail.
He's got all the details you need to participate (attention all hosts, this is a good template for us to use in the future).
Personally, I'm looking forward to immersing myself in research the next few weeks. Let's see, what goes with waffles? Duvel, of course.