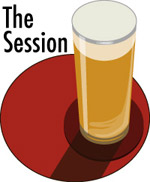 Since the theme for Session #8 (What's the Session? Start here) is Beer and Food in that order let's get right to the beer, an Oktober beer. A Fest bier. Now what about the food?
Eleven years ago my wife (the first beer writer in our family and still everybody's favorite) assembled the Brewpub Cookbook
for Time-Life books, giving us a chance to pry favorite recipes from chefs.
It had taken us one bite to fall in love with the Smoked Gouda Cheese Loaves with Roasted Peppers and Balsamic Vinaigrette at Victory Brewing in Downington, Pa., earlier in 1996. As happens sometimes, when the book designer ran out of room and something had to go an editor decided that recipe would be one of the victims.
We felt bad, but not as bad as we would have if we didn't have the recipe for ourselves. We've made it for Valentine's Day, my birthday and other special occasions. Meanwhile it fell off the menu at Victory, though it was resurrected for a dinner last year when the brewery celebrated its 10th anniversary. Good choice.
The recipe for Smoked Gouda was conceived to show off the restaurant's woodburning ovens. The wedges of cheese are combined with whole-grain mustard and spices and wrapped in puff pastry, and served with marinated roasted red peppers atop a bed of specialty greens tossed with balsamic vinaigrette. The acidity of the peppers and vinegar contrasts nicely with the creamy cheese and rich pastry.
You can see why the dish matches wonderfully with Victory Festbier. Not a beer we can get around here, so we usually substitute something German brewed – the Ayinger Fest-Marzen or the Spaten Ur-Marzen. This time of year we can grab an American seasonal, with the current house favorite being Flying Dog Dogtoberfest.
Marinade for Roasted Peppers
2 tablespoons chopped fresh parsley
2 tablespoons chopped fresh basil
2 tablespoons chopped fresh green onions
2 tablespoons granulated sugar
1/4 cup balsamic vinegar
1/2 cup pure olive oil
1 tablespoon chopped garlic
2 tablespoons whole-grain mustard
Salt and pepper to taste
1. Combine all ingredients, adjust seasoning with salt and pepper.
4 yellow peppers
4 red peppers
1/4 cup olive oil
1. Coat the red and yellow peppers in olive oil, and roast over an open flame (grill or stovetop gas burner) until skins blacken and blister. Put the peppers in a bowl, cover with plastic wrap, and let steam for 10 minutes. Remove the burnt skins, ribs, stems, and seeds. Cut the peppers in 1/4-inch-wide strips, and put back in bowl. Add marinade ingredients, stir and refrigerate at least 1 hour and preferably overnight.
Cheese Loaves
1 12×15-inch sheet puff pastry dough
1 pound smoked Gouda cheese, cubed
1/4 cup whole-grain mustard
4 green onions, thinly sliced
4 sun-dried tomatoes, soaked and chopped
2 tablespoons cracked black peppercorns
Egg wash (egg beaten with few tablespoons water)
1 cup Balsamic Vinaigrette (see recipe below)
Garnish: mixed greens, chopped green onions, cracked peppercorns
1. Preheat oven to 350ºF. Divide sheet of puff pastry into 4 equal pieces, and set aside to reach room temperature.
2. In a medium bowl, combine smoked Gouda, mustard, green onions, sun-dried tomatoes, and peppercorns. Mix well.
3. To assemble loaves: Brush each piece of puff pastry on edge closest to you and the two side edges with egg wash. Place cheese mixture in center of dough, dividing mixture between the 4 pieces. Fold over and seal all edges with a fork. Brush top with egg wash.
4. Place loaves on a greased cookie sheet, and place in preheated oven. Bake for 20 minutes. Rotate pan once halfway through cooking. Loaves should be golden brown when done.
5. While loaves are cooking, prepare Balsamic Vinaigrette.
6. To assemble plate: Place lettuce garnish at top of plate. At bottom of plate, place a quarter-cup puddle of the vinaigrette. Place roasted peppers on either side of garnish. Place loaf on top of vinaigrette. Scatter chopped green onions and peppercorns over entire plate.
Balsamic Vinaigrette
Leftover vinaigrette makes a great salad dressing.
2 tablespoons chopped garlic
1 cup balsamic vinegar
1/2 cup honey
3 tablespoons whole-grain mustard
3 cups blended oil (25 percent olive oil, 75 percent vegetable oil)
2 tablespoons chopped fresh parsley
2 tablespoons chopped fresh basil
1/4 cup chopped green onions
1/4 cup sun-dried tomatoes, soaked and chopped
2 tablespoons cracked peppercorn melange (a mixture of different peppercorns)
1/2 cup roasted pine nuts
Salt to taste
1. In a bowl, combine garlic, vinegar, honey, and mustard. Slowly add oil while whisking to create an emulsion. Add remaining ingredients and adjust seasoning.
Makes 4 servings, but we never seem to have leftovers.