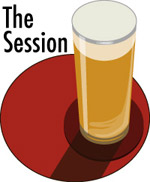 James Davidson from Beer Bar Band in Australia has announced the topic for The Session 78: "Your Elevator Pitch for Beer."
The explanation is not short, but your post should be.
"30 seconds is all you have to sell your pitch for better beer, before the lift reaches the destination floor. There's no time, space or words to waste. You must capture and persuade the person's attention as quickly as possible. When that person walks out of the elevator, you want them to be convinced that you have the right angle on how to make a better beer world."
And there are rules:
– In less than 250 words or 30 seconds of multimedia content, write/record/create your elevator pitch for beer in which you argue you case, hoping to covert the listener to your beer cause.
– Blog/publish it online on Friday 2nd August, 2013.
– When your contribution has been posted, leave a comment with a link to your post. Alternatively, email, tweet or Facebook James with a link to your post.
Oh, and no footnotes.