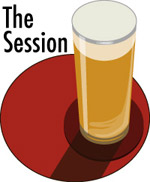 Brian Stechschulte has posted the roundup for Session #52: Beer Collectibles & Breweriana. I was AWOL, not just because most our collectibles were on a big truck rolling from New Mexico to Missouri. Moving, granted on a shorter term basis, turned out to be just as disruptive as traveling around in an RV for 14 months.
Unpacking since Saturday had included more pots and pans than beer collectibles, but I've come across several items that would have fit perfectly in Session #52. Oh, well.
Brian picked out two quotes to kickoff his roundup:
The things others reject or throw out there for nerds to pick up or get stuck with. It is all crap. – Alan McLeod, A Good Beer Blog

Brewers like to think that the flavor of the beer is the bottom line, but I would argue that one has to consider all aspects of beer enjoyment to have a truly great product that sees longevity. These items remind me that every beer has a story and I like to think about the entire process when I try a new beer or an old favorite. – Beer PHXation
Back to unpacking. To be followed, eventually, by posts about beer.