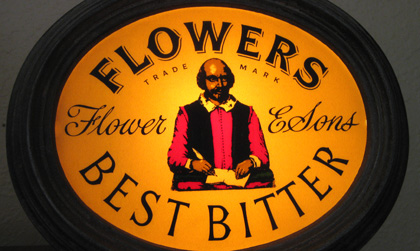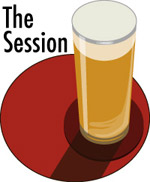 Brian Stechschulte has announced the theme for The Session #52 will be Beer Collectibles & Breweriana.
He explains, "So what old or new beer related items do you collect and why? It's that simple. This is your opportunity to share the treasured objects your wife or husband won't let you display on the fireplace mantle. You don't need to be a major collector like this guy to participate. In my mind, just a few items constitute a collection. Maybe you have mementos from a beer epiphany or road trips? You can focus on a whole collection or tell the story behind a single item."
In an email announcing he'd posted the topic he wrote, "Diehard Session fans will probably be disappointed that it's not about the actual substance of beer." Contributors needn't be. There looks to me to be an opportunity to write about beer itself.
For instance, nearly 17 years after I bought the Flowers light pictured at the top (smaller than you might think at six inches wide) at an open-air market in Dorchester it inspires multiple memories. One of them is the bright aroma of a well-conditioned pint of Eldridge Pope Royal Oak.
I might just write about that June 3.