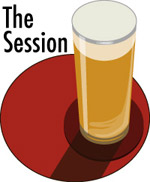 Al at Hop Talk reminds us that round 5 of The Session is coming up next Friday and that any and all bloggers are invited to join us.
The topic/theme is atmosphere:
So, we want to know about the "Atmosphere" in which you enjoy beer. Where is your favorite place to have a beer? When? With whom? Most importantly:

Why?
If we're talking one place and one companion then this is pretty easy. I'm sitting on my back portal and drinking a beer with Daria. (Thus the photo on top.) I don't think you need to ask why.
But I choose to tell you about a single great beer drinking experience from the upcoming week, and this one offers above average prospects.
Tonight we'll drive through the Rio Grande Bosque and Los Ranchos to a barbecue place with a nice enclosed patio and a decent selection of beer. Perhaps I'll have a draft Skinny Dip from New Belgium or maybe Stone IPA from a bottle.
We'll stop almost next door and see Joe Sausage, a tiny one-man operation where the sausage is hand-made and fresh. Tomorrow is our homebrew club's annual summer social – on the other side of that mountain. Everybody brings a dish to share, something to grill and beer, homebrewed and/or commercial. Two years ago I had the best bottle of Westvleteren 12 (hand carried from Belgium just a few weeks before) that I've ever tasted about five steps beyond the garage back door. (Details like that you remember.)
We might buy sausage with green chile (and several other spices, always hard to pass up) for the grill or we could go with Hopwurst, which is made with Il Vicino Wet Mountain IPA. I like that you'll often see two growlers behind Joe's workspace, one marked "for personal consumption."
And if I'm not telling you about tonight or tomorrow at The Session next week it will be because Sunday evening on the portal, Tuesday at the Triple A game between the Iowa Cubs and Albuquerque Isotopes (locally brewed Isotopes Amber surely buries whatever Duff might taste like) or Wednesday was too good not to describe. Wednesday, July 4, we'll be cooking out at friends, who live a little higher than us and have an overarching view of multiple displays of fireworks.
Ron introduced the topic of atmosphere sometime ago at Hop Talk:
We will be lucky sometimes and a perfect beer atmospheric condition will present itself. It might be bumping into friends while out to dinner and you end up chatting for hours. Or, perhaps, you are on vacation with your loved one and you find a secluded spot on the lake where you truly get to unwind.
The theme within this theme: "While life is not all about beer, beer is all about life."