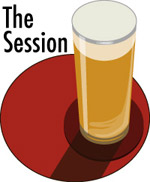 The Beer Babe has announced the topic of The Session #43 (Sept. 3) and "Welcoming The New Kids" challenges bloggers "to seek out a new brewery and think about ways in which they could be welcomed into the existing beer community."
How does their beer compare to the craft beer scene in your area? Are they doing anything in a new/exciting way? What advice, as a beer consumer, would you give to these new breweries?

Take this opportunity to say hello to the new neighbors in your area. Maybe its a nanobrewery that came to a festival for the first time that you vowed to "check out" later. Maybe it's a new local beer on a shelf on the corner store that you hadn't seen before. Dig deeper and tell us a story about the "new kids on the block." I look forward to welcoming them to the neighborhood!
All bloggers are welcome to participate. Just leave a link below The Beer Babe's announcement.